There are many false myths surrounding electric cars, and one of these is that the batteries are difficult to charge. Detractors of electric cars usually make two criticisms: there aren't many charging points and charging times are too long. But if you go a bit deeper and don't just listen to hearsay, you'll discover that this is absolutely untrue, and often these criticisms come from people who have no knowledge of the subject nor any direct experience. They're probably petrol-heads, lovers of classic cars… but we'll not dwell on them. Instead, let's look at how easy it is to charge an electric car, and how to avoid "low-battery anxiety".
Instead, let's look at how easy it is to charge an electric car, and how to avoid "low-battery anxiety". There are two ways to charge a car: at home or, alternatively, by using an electric charging point. Firstly, we should say that there's no need to make any alterations to your home electricity supply, no need to increase the power at any cost or install special wall boxes in your home. Many electric car owners use the standard 3.5 kW electric socket commonly found in many homes, without any problem. Charging takes place at night, when household consumption is limited to just a few hundred watts, the same as a fridge consumes, for example, leaving ample power available for your car.
But are there enough kilowatts available to charge a car? We'll get to this shortly, but first let's talk about charging stations.
Rather than listen to those who say that there aren't any charging stations, just download the app to your smartphone (or look at the website) and have a look for yourself. Of course, the network isn't the same as the networks of petrol stations, for example, but there are more charging points than you think and, more importantly, the number is always growing. Today, the number of electric vehicles in circulation is very small compared with the number of petrol cars. However, if you compare the number of electric vehicles with the number of active charging stations, you'll realise that there are many opportunities to charge your electric car. Also, as already mentioned, investment plans include the activation of many charging points in the coming months. Electrification at national level began some time ago and is continuing rapidly. An increasing number of people are buying electric cars, and an increasing number of charging stations are activated every day. Everything is increasing at the same pace.
There's no doubt that the future of the car is electric, and this means that a new market is opening up for energy providers. They're investing aggressively because, simply, it represents a great opportunity. And they'll do everything to make sure that an extensive network of services is available to motorists. This tells us that the situation is improving every day.
Earlier, we wondered if the few kilowatts of electricity available at home would be enough to charge a car. Often, we tend to miscalculate the time required to charge a battery, because we're starting from an incorrect assumption: we look at the capacity of the battery in our car and make a calculation by dividing the total capacity by the number of kilowatt hours available to us, thus getting a number of hours required for a full charge. The calculation itself isn't wrong, but it's wrong to take the total time for a full charge as a reference point.
Ask yourselves this: how many times have you had an empty tank, with no chance of getting to a petrol station? Probably the only acceptable reply is "during a journey of hundreds of kilometres in a remote desert". With a petrol car, you usually find a petrol station only when the reserve light comes on. This means going many days from one full tank to the next. It's different for an electric car: when you are not using the car, you leave it on charge, either at home or at a charging station. This way, you can't wait until your battery is empty before looking for a charging solution. More accurately, it's highly inadvisable to do this if you want to keep your battery in good condition. So, your calculation should be based on the number of kilometres you need to do every day.
For example, how many kilowatts do you need to travel 50 kilometres? Let's use a Hyundai Kona Electric as an example: it has a battery of around 400 kWh (base model) and a range of around 300 km. This data tells us that with a single kWh you can travel around 7.5 km, so if you travel 50 km every day, your consumption will be around 7 kWh. How long does it take to charge 7 kWh? With a domestic socket and a 3.5 kW meter, it should take you a couple of hours. Even leaving just a couple of kilowatts for your car, it would only take 3 hours. And a night is much longer than a couple of hours. With a 22 kW charging point? Around 15 minutes. And for completeness, if you want to charge our example car from empty to full, with this charging point, it would just take a couple of hours. The time it takes to have dinner? To do your shopping at the supermarket? To have a drink with friends?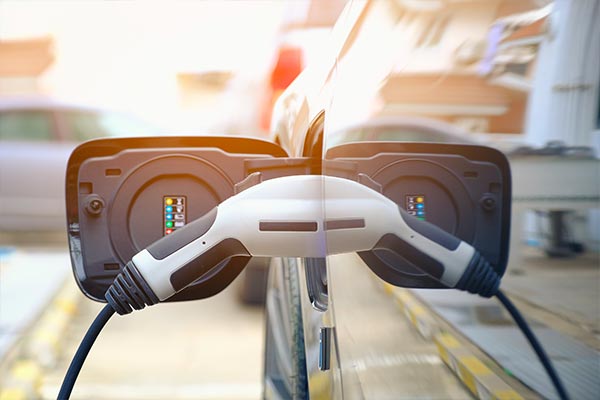 But, let's say this again, it's really difficult to find yourself with a completely empty battery. Because the secret, which will keep "low-battery anxiety" at bay, is simply to change your approach, and to leave your car on charge when you're not using it. Leaving the concept of filling your car only when it's empty firmly in the past.
This is why charging an electric car today isn't a problem, and if you want to make savings in the future, now is the time to start.
In collaboration with: