The history of electric cars is a peculiar one: unlike many other technologies, the path of battery-powered cars has had a development full of ups and downs and twists and turns. Although there are various theses as to when the first electric car was born, many claim that the first small-scale electric cars were developed between 1828 and 1832.
Early experiments
Many scholars claim that the first electric vehicle was exhibited at an industry conference in 1835 by a British inventor named Robert Anderson. Robert Anderson's vehicle used a disposable battery powered by oil. Around the same time, Hungarian scientist Ányos Jedlik and Dutch professor Sibrandus Stratingh invented two other electric vehicle models. On the other side of the Atlantic, Thomas Davenport, an American blacksmith, designed the integral components of the electric motor, which would prove to be crucial in the years to come.
However, the vehicles of the time were all little more than prototype electrified cars, travelling at a maximum speed of 12 km/h, with cumbersome steering and little range. In the 1860s, a French physicist named Gaston Plante invented the first rechargeable lead-acid battery, which represented a breakthrough for electric mobility.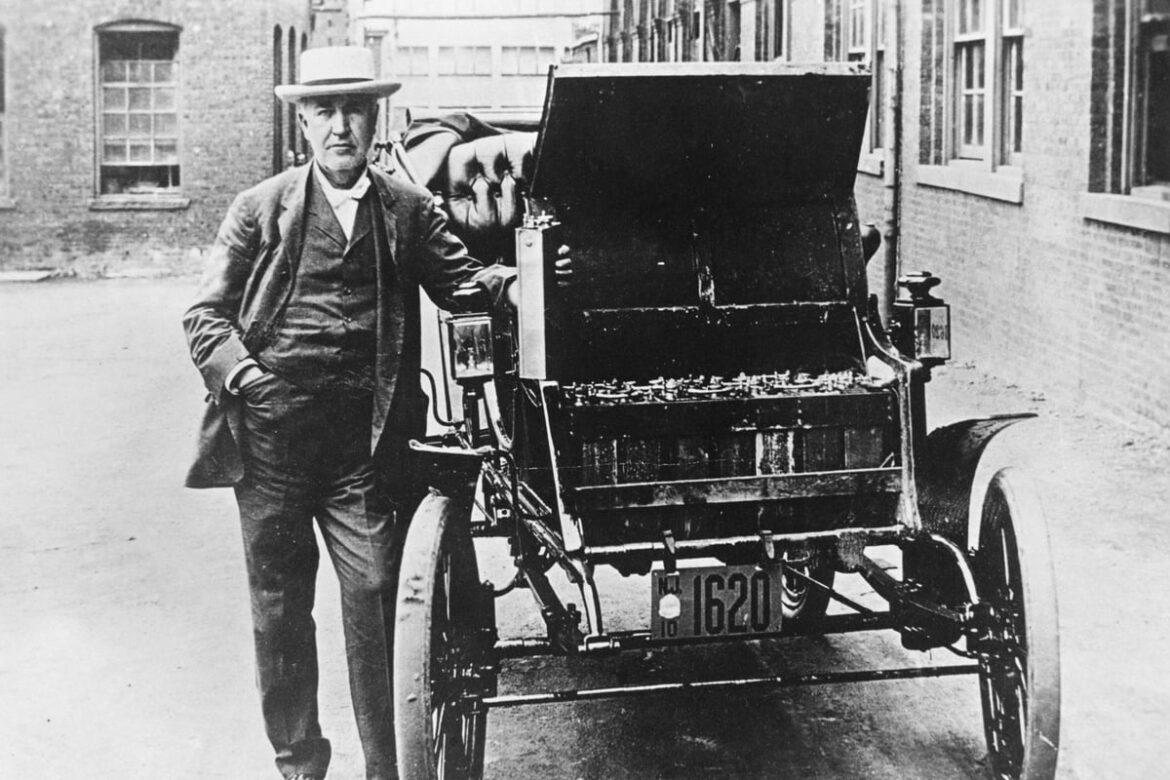 William Morrison's attempts
It was not until the late 1880s that electric mobility pioneer William Morrison combined many technologies patented up to that time to create a more practical electric vehicle. Morrison's vehicle was a traditional horse-drawn 'Surrey' carriage – popular in 19th century America – which was converted to allow the installation of a battery.
Morrison's electric carriage could carry a maximum of 12 people and had a top speed of 20 mph (32 km/h). After the debut of Morrison's electrified wagon, a number of US manufacturers began to try their hand at producing similar vehicles, making them increasingly popular in urban areas.
The collapse of steam vehicles
In 1900, 38% of all automobiles on the road in the United States were powered by electricity, 40% by steam, and only 22% by petrol. However, steam engines quickly fell out of favour because they constantly needed to be filled with water, had a limited range, and required a long start-up time (up to 45 minutes).
Electric vehicles were easy to drive and were excellent for short round trips in cities. Petrol-powered cars, however, began to carve out a growing share of the market, which until then had been limited by a few shortcomings such as the manual gearbox, the difficulty of starting the engine (it needed a crank) and the loud noise emanating from it.
Before long, the situation changed: the large-scale expansion of electric cars in the US was limited by the lack of electricity in rural areas, the low cost of petrol and the lower cost of combustion cars. Batteries also began to be a limitation. They were heavy and required a complicated and time-consuming recharging process based on stationary generators. The definitive change of pace came when Charles F. Kettering succeeded in patenting an electric starter motor for petrol cars that eliminated the annoying crank.
The petrol car boom
By 1935, electric vehicles had almost disappeared. Cheap petrol and continuous improvements to the internal combustion engine hindered the demand for alternative fuel vehicles and cemented the dominance of petrol vehicles, leaving the electric vehicle to decay for almost 40 years. In the 1970s, some interest in electric cars began to revive, helped by rising fuel prices. For example, General Motors developed a prototype urban electric vehicle and even NASA experimented.
However, electric vehicles still had several drawbacks compared to petrol cars, such as limited range, low top speeds and lack of consumer interest. The lack of public interest did not deter scientists and engineers from experimenting. Over the next 20 years, car manufacturers tried to come up with models with a satisfactory range and performance.
The renaissance of electric cars
One of the most important turning points was the introduction of the Toyota Prius, which was launched in Japan in 1997 (later sold worldwide) and became the first hybrid electric vehicle produced to scale. In 2003, two entrepreneurs named Martin Eberhard and Marc Tarpenning founded Tesla Motors. Three years later, in 2006, the Silicon Valley company announced that it would start producing an electric sports car capable of travelling more than 320 km on a single charge.
The success we all know about Tesla encouraged many large car manufacturers to accelerate work on their electric vehicles. At the same time, new battery technologies entered the market that helped to improve the range and reduce the cost of batteries for electric vehicles. Interest grew steadily over time, reaching two million electric vehicles on the road at the end of 2016, a number that will reach 16 million by the end of 2021.
Our days
The recent past is there for all to see: more and more car manufacturers have started producing electric cars, technology is improving year by year and more and more means of transport – urban and otherwise – are beginning to have their electric alter egos. Companies like Plenitude and its subsidiary Be Charge are part of this journey thanks to an ever-growing recharging network that to date has more than 11,000 recharging points installed in Europe and more than 65,000 points that can be used by the app.